Weston hits the beach...
The weather has been so nice we are all pretending it is summer here. Cool in the eves, but what beautiful days. I decided to take the family to the beach-of course this includes Weston. I have never seen his eyes so big, and him so tense, wow. We rode for a couple of hourse, but the first thirty it was hard for him to comprehend anything of where we were, and what was going on. What was most scarey-a burnt log. The dog that came to chase us was really fun to turn and chase.
He moves just like a dressage horse, what power. He tracked beautifully, and had even some nice relaxed lopes. He was easy to get into the water, but not sure about the rushing water, we went in there backwards. I tried another hard spot, and Weston turns tail like a normal horse would, but then start to back himself in. Weird horse, but a great horse. I cannot say I have been on a horse with his strength, and stamina. He did not even break a sweat. It was a great experience for us.
I am glad we are getting back to work. I am not sure the beach was my best idea after a day off, but he was great. He was really tense when a hellicopter passed over, but as he does when he is scared he stood stock still until it was gone.
I cannot wait to get over to see Kim this week I hope. Weston is starting the passage as she said he would, he gives a kick up with both hinds and then the frount. It is amazing to feel a horse love what you are asking. Kim says horses love passage if they are taught right and they get all excited-he does, he is not sure what it is, but he loves it.
We ran into some horse people on a horse less vaccation from Lebenon who were blown away. It was great talking to them. Weston is so handsome, and tall, very beautiful, he surprises people. His manners are also amazing, however I am seen a bit of the pushy treat monster, as he gets treats from every human that comes by. He does a great pitty the mustang face, what can I say.
I am so excited for Expo!
Here is a group trail ride shot-Weston on the left. Bree was so smart to use the timer and get us all in!
Jasmine&Weston.....
The sweat shirt designs are in and I will blog them in here soon for sweatshirt orders!!!! Team Weston!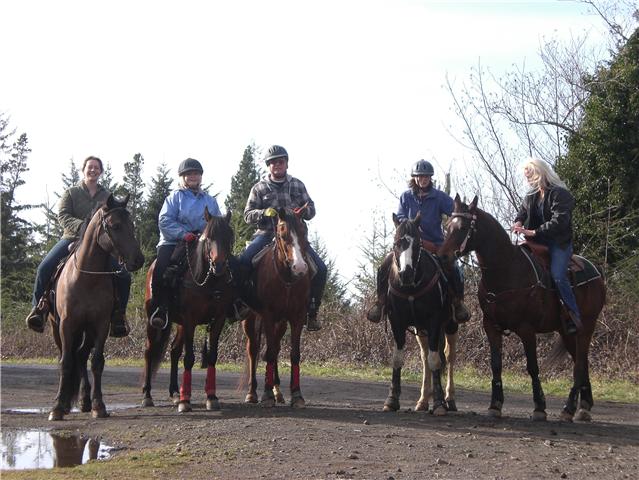 Posted by sealrockstables at 11:27 PM EST